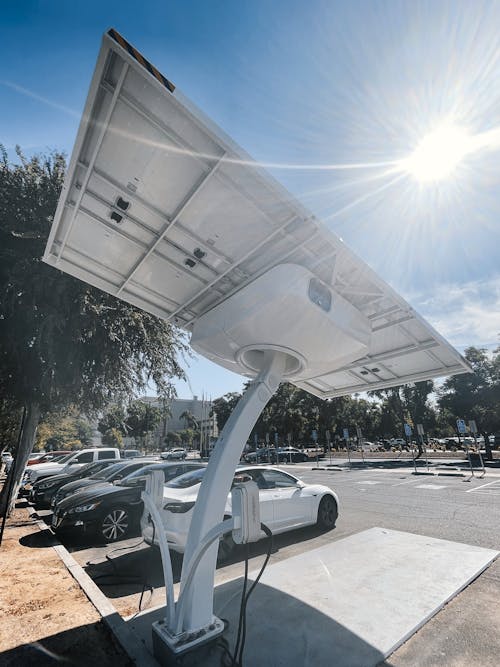 So far, we've focused heavily on the emissions of vehicles and the impact they have on their environment. Whilst electric cars emit no tailpipe emissions, it wouldn't be a fully sustainable approach to only focus on one area.
From the Capgemini Research Institute report mentioned earlier, 74% of automotive original equipment manufacturers have an electric vehicle strategy. But only 56% of them include this as part of their overall sustainability strategy.
So what does this mean? Well, it's easy to assume that simply offering electric vehicles is enough. In reality, they need to be designed and built with sustainability in mind.
A large part of producing sustainable transport is ensuring the entire lifecycle of a vehicle is considered, including things like production and disposal. Circular economy practices focus on the principle of reusing and recycling resources where possible. For example, using renewable sources of energy at manufacturing plants or continuing to explore how battery life can be extended.
A circular economy has the potential to offer improvements to sustainability across the automotive value chain. Fortunately, car manufacturing does lend itself to circular principles. For example, according to the Capgemini, using remanufactured engines results in 73% to 87% fewer CO2 emissions compared to building a new one through traditional processes. The report also confirms that currently 32% of the automotive organisations' supply chain contributes to the circular economy.
How sustainable are batteries and chargers?
All-electric vehicles are also referred to as battery electric vehicles. That's because they have an electric motor, rather than an internal combustion engine. Electricity is stored and used to power the motor and turn the wheels. Once the power has run out, the batteries can be recharged using electricity from the grid.
There are some queries around how sustainable creating – and disposing of – electric vehicle batteries really is. Three key raw materials used in the manufacture of batteries are lithium, cobalt and nickel. The Faraday Institute estimates that global lithium production will need to quadruple and global cobalt production will need to double to fulfil the growing demand.
These raw materials are found in a limited number of countries. According to the SMMT 2020 UK Automotive Sustainability Report, The Democratic Republic of Congo is the biggest producer of cobalt, supplying more than 60% of the world's demand, while large quantities of lithium are found in Chile, Australia and Argentina.
Not only do manufacturers have to ensure the security of supply due to this concentration of resources, they also have to source raw materials in a sustainable manner. Internationally, forces have come together to increase transparency and traceability of the supply chain of these materials. Efforts include:
Cobalt Industry Responsible Assessment
Framework (CIRAF)
Delve
Global Battery Alliance
Pact's Mines to Markets (M2M)
Responsible Cobalt Initiative (RCI)
Responsible Minerals Initiative (RMI)
As an example of what these programmes work towards, the Global Battery Alliance have agreed on 10 guiding principles for a sustainable battery chain. These are:
Maximising the productivity of batteries
Enabling a productive and safe second life use
Circular recovery of battery materials
Ensuring transparency of GHG emissions and their progressive reduction
Prioritising energy efficiency measures and increasing the use of renewable energy
Fostering battery-enabled renewable energy integration
High-quality job creation and skills development
Eliminating child and forced labour
Protecting public health and the environment and supporting responsible trade and anti-corruption practices
Local value creation and economic diversification
Source: Global Battery Alliance's A Vision for a Sustainable Battery Value Chain in 2030
Car manufacturers involved in the Global Battery Alliance include: Audi, BMW, Honda, Renault Group, Volvo and VW Group.
Now, what about the reality that electric vehicle emissions are higher during the manufacturing stage? It's something consumers are aware of. A Lloyds Banking Group poll highlighted worries around the impact of battery production as a barrier to the uptake of electric vehicles.
But while more CO2 is produced when manufacturing an EV compared to an equivalent petrol or diesel car, this is quickly paid off. Electric cars are still much cleaner than internal combustion engine cars over their lifetime. Lloyds use the example of a VW Golf-sized electric vehicle.
Purchased and used in the UK, it would be responsible for around 25 tonnes of CO2 over its full life. An equivalent petrol car would be responsible for 80 tonnes of CO2.
What's more, as our national energy providers utilise more sustainable energy and technology improves, this battery production debt will be paid off even quicker.
Insight into car waste
While acknowledging how far we've yet to go in making driving sustainable, it's important to also recognise achievements within the industry. The SMMT 2020 UK Automotive Sustainability Report, for example, highlighted that the amount of waste sent to landfill per vehicle production fell by 23.2% in 2019.
A lot of car parts, including batteries, can outlast its use. Without the proper planning, they end up in landfill. But they can have useful second lives. Batteries can be used as storage grid batteries, be recycled or remanufactured.
In fact, recycling waste is one of the most commonly implemented sustainable circular economy initiatives used across the car industry.
When a vehicle reaches the end of its life, vehicle manufacturers have an obligation to provide free take-back for cars. Vehicles are actually one of the most recycled retail products on the market as many parts can be reused.
Carmakers are delivering plenty of innovation across the whole value chain. As early as 2017, GM was being written about for achieving a zero waste to landfill status for its Flint Engine facility in Central Michigan. They hadn't sent anything to a dump for the 12 years prior. More than 150 of its factories and office buildings now hold the same zero waste designation and GM gains $1 billion in revenue each year from the sale of recyclable materials. The benefits are environmental and financial.
Plenty of other manufacturers can also boast about the zero waste or waste reduction efforts, including Yamaha Motors, BMW, Ford and Toyota.