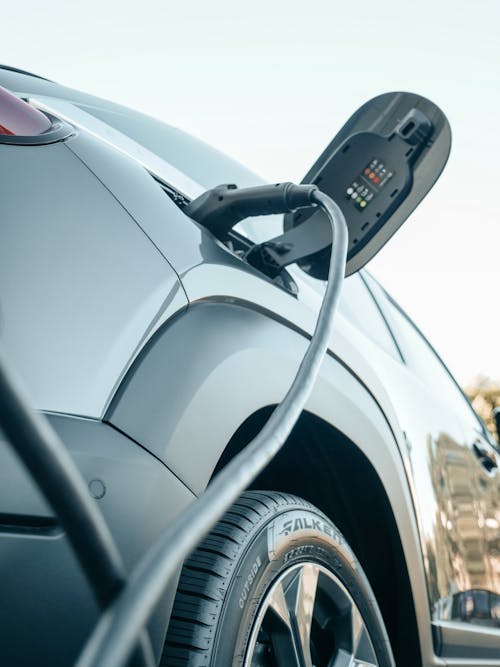 According to the Capgemini Research Institute report, the shift to electric vehicles would cut the overall lifetime Greenhouse Gas (GHG) footprint by about 37% for passenger vehicles, while reducing the operating footprint by 75%.
When compared to an internal combustion engine, there's a reduction in GHG emissions for all areas except two. Currently, the production of electric car bodies and components, as well as power production, is slightly higher. But for technology which is still advancing, this makes sense. Over the lifecycle of a car, an electric vehicle is still considerably less emitting and we can expect further improvements to manufacturing methods. More on that later.
The true impact that electric vehicles can have on the environment also highly depends on the power grid of that country. The figures used above are based on the grid in the 27 EU countries and the UK when powered by renewable sources. Depending on the mix of electricity supply, the reduction in emissions from an electric vehicle will vary. For countries with carbon-intensive energy generation, there would be smaller reduction.
Nevertheless, electric cars have great potential. According to the International Energy Agency (IEA), sales of electric vehicles topped 2.1 million globally in 2019. It surpassed the previous year, which was already a record year for sales, by 40%. Just look at this growth:
2010 = 17,000
Back in 2010, there were only around 17,000 electric cars on roads around the world
2019 = 7.2 million
By 2019, that number had grown to 7.2 million
How far we've come
The most concrete evidence that electrification is the future in the UK comes in the form of the ban on the sales of new petrol and diesel cars. Originally, all new cars with internal combustion engines were due to be banned from UK showrooms in 2040. Now, the ban comes into effect in 2030.
New hybrid vehicles powered by both an internal combustion engine and an electric motor with significant zero-emission ranges are allowed to be sold until 2035. There are no plans to restrict the sales of second-hand petrol, diesel or hybrid vehicles.
Ahead of the 2030 ban, sales of electric vehicles in the UK are moving in the right direction. In October 2020, new vehicle registrations put electric vehicles on a positive trajectory.
When we look back to some of the first electric vehicles on the market, it's clear to see how far we've come. In fact, inventors in Europe and the United States were working with motors powered by electricity at the inception of the car. The first production electric car was built in London in 1884 by an Englishman named Thomas Parker. It was in the US, though, where electric cars dominated in the 1900s.
But as the cost of fuel fell and people wanted to travel further, it led to something of a dark age for electric cars which lasted for much of the 20th century.
It wasn't until 1996 that General Motors launched an electric car, the EV1, arguably the first electric vehicle of the modern era. It had a realistic range of about 70 miles if you were driving near its top speed (80mph) and up to 90 miles if you averaged about 45mph. Charging from the power grid took two to three hours, or 12-15 hours if you used the portable charger stored in the boot.
Compared to electric cars of today, say Teslas, none of which have a range of less than 200 miles, it's clear to see that carmakers are working towards cars which are not only better for the environment, but generally better to drive and own. Tesla's first car, The Roadster, came 10 years after the EV1. It's exciting to see the change each decade brings.
Further challenges for electric car uptake
While electric car sales are steadily growing, after the 2030 ban of internal combustion engine (ICE) car sales, we're likely to see a significant boom. Indeed, an AA survey of nearly 18,000 drivers found that 47% will be considering an electric vehicle for their next car.
But for those who said they would not consider an electric car, these were the top reasons:
1st Lack of public charging points (69%)
2nd EVs are too expensive (67%)
3rd Worried about 'range anxiety' or battery range (66%)
All survey respondents were then asked about their level of agreement with a range of statements about electric cars. The top three most agreed with statements were:
1st Electric cars are too expensive (89%)
2nd Charging an electric car takes too long (72%)
3rd The national grid won't be able to cope if we all switch to electric cars (63%)
Across responses, the cost of electric vehicles and the ability to charge them efficiently are the two key challenges for greater uptake. Indeed, in 2021, the Plug-in Car Grant (PiCG) previously offering buyers £3,000 off the price of any new electric car with a retail price of up to £50,000 has been cut. Now, £2,500 is available for EVs worth up to £35,000.
This may deter potential buyers, but it turns out that most people don't even know the money is available. 63% of respondents had never heard of PiCG, and half were unaware of the Electric Vehicle Home Charge Scheme, which helps people pay for having a charger installed at home.
These misunderstandings extend into charging too. Most drivers don't cover more than 20 miles a day, which means most electric cars wouldn't need to be charged more than once a week or so. The worries of regularly running out and having nowhere to charge are slightly misguided.
Nonetheless, the UK does need a comprehensive charging infrastructure in order to support the move from fuels to electric. SMMT and Frost & Sullivan analysis has revealed that if we assume 24% of the UK car market is electric by 2030 and 41% by 2035, then we'd need:
6.99 million charge points by 2030
Around 1.66 million of which will need to be public
11.83 million charge points by 2035
Of which 2.8 million will need to be public
Fortunately, as part of the March 2020 Budget, the government announced the rapid charging fund. £500 million has been allocated towards increasing the number of rapid electric vehicle charging points throughout the UK. Across England's motorways and major A roads, the plan is to install:
2,500 high-powered charge points by 2030
6,000 high-powered charge points by 2035
This doesn't include private installations by individuals, businesses or local authorities, which are likely to grow at rapid rate too supported by the government's grant schemes for electric vehicle charging infrastructure:
Electric Vehicle Homecharge Scheme
Workplace Charging Scheme
Chargepoint authorisation
On-street Residential Chargepoint Scheme
Ultra Low Emission Taxi Infrastructure Scheme