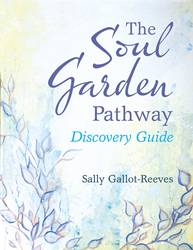 'The Soul Garden Pathway' by Sally Gallot-Reeves facilitates a deeper connection between the physical self and the Higher Self so others can make sense of their earthly journey
An unpredictable and rapidly changing world is a catalyst for stress, restlessness and overwhelm, leading many people to question who they are and why they are here. To help readers in their quest for meaning and purpose, Sally Gallot-Reeves has released her uplifting and transformative spiritual workbook, "The Soul Garden Pathway: Discovery Guide."
"The Soul Garden Pathway" takes readers on a guided exploration of their inner sanctuary, where body, mind and spirit meet to form the whole being. Framing this space as the Soul Garden, Gallot-Reeves demonstrates how to tend to its growth and expand its path through all of life's seasons, including watering the soil with love and gratitude, planting seeds of intention and weeding out old thoughts, beliefs and practices to make room for new life.
With gentleness and compassion, Gallot-Reeves provides the tools needed to care for the Soul Garden and see it blossom. Journaling prompts and affirmations are woven throughout each chapter, providing a space for readers to imagine how they can live in alignment with spiritual laws and truths, open their hearts to messages from the Divine and cultivate blessings and abundance from Spirit. Ultimately, through turning inward and nurturing themselves, readers will learn to recognize who they are, where they have been and where they desire to be.
"'The Soul Garden Pathway' is designed for those who seek to grow in faith and spiritual dimension," said Gallot-Reeves. "Because our perspectives change with experiences, it is a book that can be returned to time and time again for reassessment and continued expansion. What we uncover and discover about ourselves leads us further to our truth and authenticity."
"When I first read 'The Soul Garden Pathway' I thought, 'This is it! This is the guidebook that weaves the internal experience with the external experience of life and allows the individual to understand what is often presented as complicated esoteric concepts in an understandable way,'" wrote Carolyn A. Jones, The Energy Architect™, The Holistic Institute of Wellness. "It is a guidebook that can be heard through the heart and understood through the mind. As an intuitive channel and healer, I have often found in my work that blending the head and heart energies together is one of the greatest journeys. This is the perfect tool to facilitate just that."
"The Soul Garden Pathway: Discovery Guide"
By Sally Gallot-Reeves
ISBN: 9781982262136 (softcover); 9781982262143 (electronic)
Available from Amazon, Barnes & Noble and Balboa Press
About the author
Sally Gallot-Reeves is a spiritual gardener planting seeds. Her life's work is dedicated to promoting the highest good for all individuals, animals and nature kingdoms. Through her writing, she reveals her innermost thoughts and feelings to nurture and guide readers to their own discoveries and awareness. Gallot-Reeves believes compassion, love and acceptance are the foundations to our living in harmony and unity, one as one, one as whole. She credits her years in nursing service to illuminating her heart and mind to the core needs of all people, the sacredness of life and her dedication to bringing Divine Light and Love into the world. Her published works include "Behind the Open Door: The Book of Light," the story of a highly gifted and telepathic child and her magical adventures navigating a world she doesn't understand; and "Between Shifts," a book of vignettes in poetry drawing from her experiences with patients, families and caregivers. She is the author of the Soul Garden Pathway website, where she pens daily blessings out into the world that offer hope and insight into life's challenges. Born in New England, she resides in New Hampshire where she continues her literary work and spiritual life creating sanctuary space for all living things.