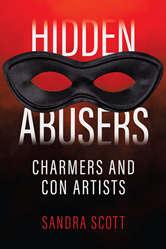 Author Sandra Scott provides important information from her years of professional experience in her latest book on abuse.
If you are bruised, bleeding or dead, it is obvious to anyone that you are being, or have been, physically abused. But, what about the hidden abuses of emotional, psychological, verbal, financial, intimidation, bullying, manipulation, and stalking? How do you recognize and address those? How do you get others to see, understand and advocate for you? Licensed professional counselor and author Sandra Scott's new book, "Hidden Abusers: Charmers and Con Artists" educates readers on how to discern signs and threats of abuse within a relationship. The book shines a light on the issues of abuse, especially the hidden ones that are difficult to see.
The book focuses primarily on the Charmer. It provides various case studies of these dangerous abusers. From fictional characters, such as Scarlett O'Hara, to real-life high-profile individuals, like O.J. Simpson, the author gives insight into this kind of abuse. Scott not only provides real anecdotes to educate the reader on the different signs to recognize in relationships, but she also provides valuable resources. Her book draws from the Twelve-Step Program and Bible to help victims recover from this trauma with the help of the Lord.
"I hope my book will help victims see that they are victims," said Scott. "I want them to know that they did not cause their abuse, they couldn't control it, and they can't cure it. My mission is to provide a guide for individuals who have gone through this kind of abuse to know that they aren't alone and that there are ways to move from victim to survivor to thriving as a loved child of God. God loves His daughters as much as He loves His sons, and I don't believe He approves of His sons mistreating His daughters or vice versa."
"Hidden Abusers" provides a recovery plan for those who have experienced this kind of abuse in a relationship. Scott has witnessed many stories of abuse in her 30 years of private practice, which includes 15 years working with adult singles ministry. She hopes her book will be a helpful resource, especially for church leaders in dealing with abuse in their congregations.
By the end of the book, readers will recognize and understand this form of hidden abuse. Ultimately, "Hidden Abusers" will help victims heal and provide them with steps to recovery and wholeness.
"Hidden Abusers: Charmers and Con Artists"
By Sandra Scott
ISBN: 978-1-4897-3711-3 (softcover); 978-1-4897-3713-7 (hardcover); 978-1-4897-3712-0 (eBook)
Available at LifeRich Publishing, Amazon and Barnes & Noble
About the author
Sandra Scott is a licensed professional counselor and specializes in individual and family relationship issues. She is a conference speaker and a certified divorce mediator with expertise in pre-divorce and pre-marital counseling. Scott also conducts seminars on abuse, primarily directed at educating church leaders and congregations in recognizing abuse and responding appropriately. Passionate about God's Word, Scott uses her gifts to teach the application of the Bible. She has also authored two previous books, "Starting Again . . . A Divorce Recovery Program" and "Charmers & Con Artists & Their Flip Side." Scott is a mother and a grandmother and enjoys theater, music, laughter and good conversation. To learn more, please visit https://hiddenabusersbook.com/.